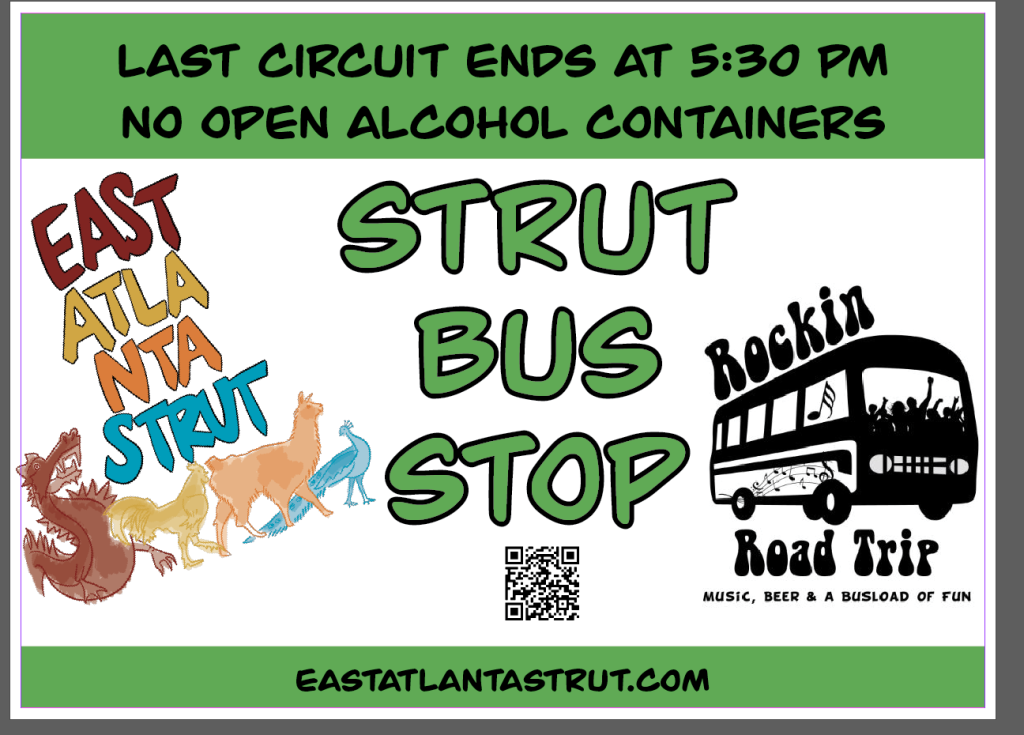 We know you're eager to plot your path through the 2022 Strut, which will be Saturday, September 24.
Here's the map. There's a ton of stuff going on and we'll be working on updates, so if something looks odd, please bear with us and check again in a day or so. If you're a spreadsheet person, check this out. Again, we're adding info as we get it.
Here are some highlights:
Strut Your Pet — (pre-Strut) 9:30 a.m.
Leaf Blower Madness at The Midway Pub– 12:30 p.m. until the winner is crowned!
Strut Your Bake rum dessert bake-off and VIP tasting — 1 p.m. at Strut Headquarters, the East Atlanta farmers market lot, 572 Stokeswood Ave. SE.
Argosy market and music — all day
Llama Poop Bingo — all day
Also watch for popup appearances by the Seed & Feed Marching Abominable, the Mermaid Motor Lounge, and the Krewe of Optical Delusions. Classic cars will be parked at Southern Feedstore after they Roll Through the Strut.
There are Strut markets and music at Southern Feedstore, Glenwood and Metropolitan, Brownwood from Gracewood to the dead end, Gresham and Lyndale, Clifton and Clifton Way, Blake from Glenwood to Newton, and McPherson Avenue between Haas and Flat Shoals. Whew!
Get to it all via park-and-ride! The Rockin' Road Trip and EAKC party buses will let you hop on and hop off at spots throughout the neighborhood.
New this year: Rent a bike from Pedego to see all the sights and sites efficiently. They'll be at Strut Headquarters, 572 Stokeswood Ave. SE.
Park at Eastside Church, Temple of Faith Church or First Iconium Church and look for the bus stop signs or "more Strut this way" signs.
Visiting the Strut Your Street locations? Please remember that you are a guest on private property, and the property owners are in charge. Respect your hosts' requests, and we highly recommend you have had your Covid vaccinations and boosters. Your safety is your responsibility.
Be aware that streets will not be closed to traffic and sidewalks are public property, so you need to follow the rules of the road. Because parking is always limited in East Atlanta, we recommend walking or biking through the neighborhood — or hopping on the party buses mentioned above!