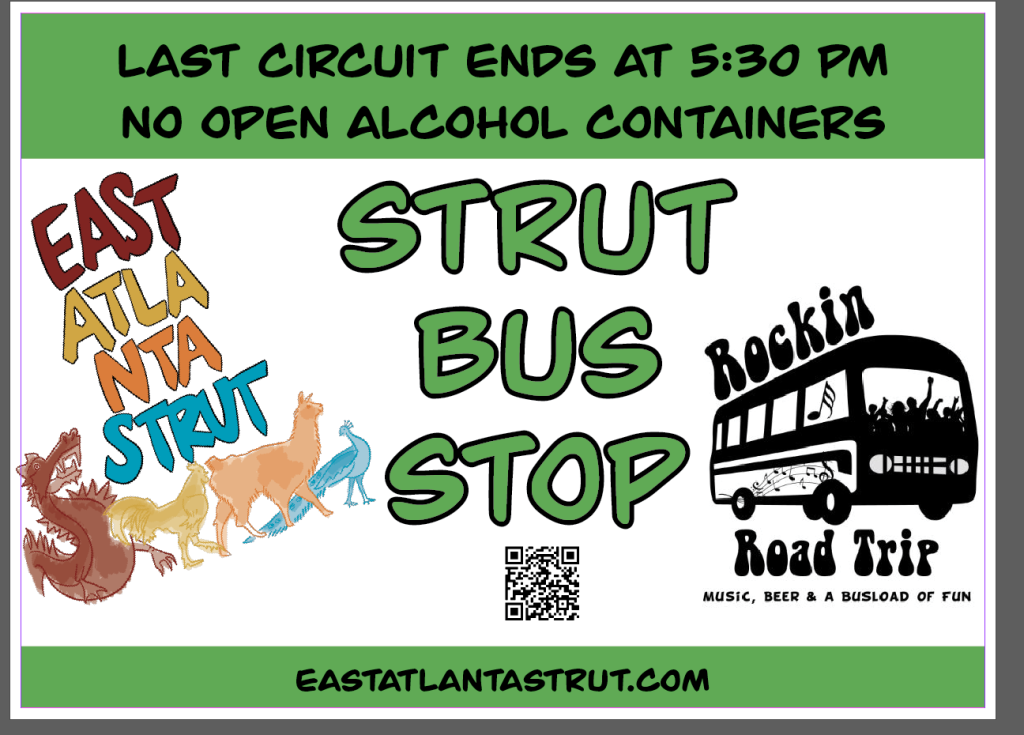 Watch this space so you can plot your path through the 2022 Strut, which will be Saturday, September 24.
Want to know what Strut day is like? Check out last year's info below.
Music schedule
List of vendors
Food vendors
Street Strut activities
Strut gardens
Toilet locations
Map Pick up a printed version from a Strut info tent on Flat Shoals.
Here are some highlights:
Strut Your Pet — (pre-Strut) 9:30 a.m.
Strut Your Garden tour — 10 a.m. to 2 p.m. Here's the list of gardens.
Leaf Blower Madness finals at The Midway Pub– 3 p.m.
Strut Your Bake rum dessert bake-off and VIP tasting — 4 p.m. at Southern Feedstore, 1245 Glenwood Ave.
Midway Comedy Stage — Shows at 4 p.m. and 6 p.m. with five comics at each show
Argosy market and DJ — all day
Also watch for popup appearances by the Seed & Feed Marching Abominable, Atlanta Freedom Bands, the Mermaid Motor Lounge, and the Krewe of Optical Delusions.
New this year: Park and ride! The Strut is neighborhood-wide and we're making it easy to find the hot spots. The Rockin' Road Trip party bus will let you hop on and hop off at 13 spots throughout the neighborhood.
Park at Eastside Church, Temple of Faith Church, First Mount Pleasant Church, or First Iconium Church and look for the bus stop signs or "more Strut this way" signs.
Visiting the Strut Your Street locations? Please remember that you are a guest on private property, and the property owners are in charge. Respect your hosts' requests, and follow whatever official recommendations and CDC guidelines are in effect regarding Covid-19. Your safety is your responsibility.
Be aware that streets will not be closed to traffic and sidewalks are public property, so you need to follow the rules of the road. Because parking is always limited in East Atlanta, we recommend walking or biking through the neighborhood — or hopping on the party bus mentioned above!